Eivind Aarset is a guitarist with a unique musical vision that absorbs and reflects all manner of music while retaining an enviable individualism and high quality craftsmanship that can span from quiet intimacy to searing intensity. His debut as a bandleader on Jazzland Recordings was described by the New York Times as "One of the best post-Miles electric jazz albums," setting a high benchmark that Aarset has consistently met and exceeded, both in the studio and in live performance.
As one of Norway's most in-demand guitarists, Eivind Aarset has worked with Jon Hassell, David Sylvian, Bill Laswell, Jan Garbarek, Paolo Fresu, Marilyn Mazur, J.Peter Schwalm, Mike Manieri, Marc Ducret, Michel Benitas Ethics, Martux-M, Stefano Battaglia, Michele Rabbia, Talvin Singh, and Andy Sheppard. He has worked with Nils Petter Molvaer's band, (appearing on all of Molvaer's albums, including the breakthrough album "Khmer" and 2006's award-winning "ER"). He also has collaborated with Dhafer Youssef, both live and in the studio. Head profile photo credit: Stéphane Ait Ouarab

Etter å ha vært en av Norges mest benyttede session-musikere og spilt med det som kunne krype å gå av artister fra øverste hylle på 80og 90-tallet, ble Aarset kjent for et publikum utenfor Norge gjennom sitt mangeårige samarbeid med Nils Petter Molvær. Da han debuterte som soloartist med albumet «Èlectronique Noire» i 1998, kalte The New York Times platen for «...one of the best post Miles electric jazz albums». Hans forrige album, «Dream Logic» (2012), ble av Jazzwise beskrevet som «...the most significant album to come out of Norway since «Khmer» in the late 1990s». Det er altså en betydelig skikkelse i norsk musikkliv som nå gir ut sitt syvende album, «I.E.».
Aarset har greid det mesterstykket å skape sin helt egne og umiskjennelige identitet. Han har en formidabel dynamikk i uttrykket sitt. I det ene øyeblikket kan han spille de sarteste gitartonene som noensinne har kommet ut av en elektrisk gitar, og i neste øyeblikk kan han vrenge ut den mest brutale støyen du kan tenke deg. Men han har et enestående gehør når det gjelder å lytte, og kun spille det som musikken krever. Han setter aldri seg selv foran helheten. Samtidig har han en trang til å utforske musikalske retninger som måtte by seg, noe som gjennom årene har åpnet dører til samarbeid med størrelser som Jon Hassell, Marilyn Mazur, Dhafer Youssef, Andy Sheppard, Laurie Anderson og Bill Laswell. Alle disse sidene ved ham kommer frem i rikt monn på «I.E», hans kanskje mest gjennomførte album til dags dato. Albumets ni spor er ofte nærmest å betrakte som suiter som består av ulike deler eller satser der stemning og farger endrer seg underveis. Dette er for såvidt ikke noe nytt for Aarset, men det har aldri vært så tydelig definert som her.
line-up:
Eivind Aarset :gitar, elektro
Audun Erlien :bass
Erland Dahlen :trommer, perk, sag, klokkespill
Wetle Holte :trommer, perk, elektro

På «Sonic Codex» (2007)(og kanskje enda sterkere på liveplaten «Live Extracts» (2010)) hadde Aarset dreid lydbildet noe vekk fra det elektroniske preget på de tidligere albumene og latt akustiske elementer (for det meste levert gjennom bruken av to trommiser med et rikholdig utvalg av instrumenter) komme tydeligere frem i et mer rocka uttrykk. «Dream Logic» var i så måte noe helt annet, med et lydbilde som var kanskje enda mer elektronisk enn også de tre første albumene, mye takket være samarbeidet med samplings- og produsentfenomenet Jan Bang. Med «I.E» har Aarset gått tilbake til å ta utgangspunkt i sin faste kvartett som grunnbesetning. Alle nyanser og teksturer fra «Dream Logic» er også til stede her (og Bang er også involvert på flere spor), men er nå tett integrert med det mer «tradisjonelle» uttrykket til Aarset's band. Sammen med noen helt flunkende nye elementer, er resultatet et album med større variasjon i uttrykket enn på noen av Aarsets tidligere utgivelser. Han viser en større vilje til å utforske sitt eget univers enn noensinne, både i forhold til dristigheten i uttrykket, men også i forhold til måten de ulike puslespillbitene er satt sammen på.

Hovedsakelig er albumet spilt inn live i studio med den faste kvartetten Aarset/Erlien/Holte/Dahlen, for så å orkestrere videre med gitarer og blåsearrangementer. Dette gir en energisk effekt der råskapen fra de opprinnelige innspillingene er bevart. Kvartetten har sakte men sikkert utviklet et så tett samspill som bare kan komme fra ekstremt samkjørte musikere som har oppnådd en total forståelse av og innlevelse i hverandres uttrykk. Bandet har gjentatte ganger vist at de kan fremføre musikk på en måte man normalt ville forbinde med en større besetning. Som kun en kvartett er det imidlertid mye lettere å bryte ut og ta musikken i helt nye retninger på sedvanlig fryktløst og eksperimentelt vis.

Med I.E. i bagasjen burde kvartetten ha mye upløyd mark å utforske i en live-setting, og dermed gi både nye og gamle fans en opplevelse de ikke har lyst til å gå glipp av. Aarsets I.E. er en mangefasettert organisme som inneholder ulike aspekter av transformasjon, kamuflasje, symbiose og tilpasning. Personligheten til hver enkelt musiker kommer tydelig frem, enten de nå følger et riff i halsbrekkende tempo som et diesel-lokomotiv på full guffe, eller svever avgårde på lette luftstrømmer over en klar himmel. Legg merke til Audun Erliens enestående bass spill, tusenkunstnerne Wetle Holte og Erland Dahlens menasjeri av perkusjons og strengeinstrumenter. En full blåserrekke, samplings-geniet Jan Bang og det akrobatiskevokalfyrverkeriet til Lorenzo Esposito Fornasari, tilfører lydbildet ytterligere dybde, og gir en helt ny dimensjon til Aarsets klangverden. Aarsets gitar er hele tiden den dominerende kraften, men overskygger aldri helheten. Måten han bestandig finner de helt riktige notene å spille, enten det er snakk om en veldig lavmælt og spartansk setting eller et kaotisk crescendo, er alltid et under å være vitne til. I.E. markerer nok et trinn på Aarsets stadige klatring på vei mot sin egen kunstneriske formtopp. Måtte det bli en klatretur som varer lenge ennå!ing på vei mot sin egen kunstneriske formtopp. Måtte det bli en klatretur som varer lenge ennå!
Also available in 2018 - Atmosphères:
This far-reaching double album, recorded and mixed in three days in Lugano, introduces a new group with Tigran Hamasyan, Arve Henriksen, Eivind Aarset and Jan Bang. The Norwegians had played in diverse configurations on ECM - Jan Bang on Eivind Aarset's Dream Logic, for instance, and Bang and Aarset on Arve Henriksen's Cartography - but with Hamasyan at the centre of the sound, bringing with him ancient folk melodies transfigured in the compositions of Komitas, other inspirations come into play. All four players are at a creative peak here, whether freely reflecting upon Armenian themes or spontaneously shaping atmospheric soundscapes together. A collaboration which bodes for some spectacular live shows. MORE  MER
EIVIND AARSET - I.E
Finally my new album is ready... Based on experiences of the live lineup for the last five years, it has a rougher edge then most of my previous work ; Audun Erlien: bass, Wetle Holte and Erland Dahlen: drums, percussion and a lot of other stuff, myself on guitar and electronics. But we also had the pleasure of working with Jan Bang (livesampling co-production) on most of the tracks, Lorenzo Esposito Fornasari (vocals) on one track, Det norske blåse ensemble on a couple of tunes, Michele Rabbia (electronic treatments) on a couple of tunes, and finally Jan Galaga Brönnimann (contrabass clarinet) on two tracks. Bjarni Stensli has mixed the album, except one tune mixed by Tchad Blake. The album is mastered by Helge Sten, and the artwork is made by Ian Anderson from Designers republic
«I.E.» er kanskje blitt Eivins Aarsets fineste og mest varierte og fineste innspilling i eget navn til nå. Musikken er svevende og lyrisk, men samtidig også tøff så det rekker. De andre musikerne på plata er med på å gjøre musikken til Aarset til en fryd for øret, og kanskje er en av årets norske plateinnspillinger endelig på markedet! Jan Granlie. MER


The north European jazz and new-music scene isn't short of effects pedal-toting guitarists, but the Norwegian Eivind Aarset is in a class of his own. Aarset has worked for leaders as different as Dhafer Youssef and Ute Lemper, and he currently plays in saxophonist Andy Sheppard's new quartet – but I.E. may be his most ambitious album yet. It features his core quartet, plus a horn section and some input from sampling maestro Jan Bang. However far out he gets, and however thickly stacked the textures become, Aarset almost always sounds melodic. Some tracks here crash into life but then turn into quiet, Latin-jazzy strummings; Sakte opens on sliding guitar whines then moves into violin-like pure tones and ticking-clock grooves; Through Clogged Streets, Passed Rotten Buildings shifts from crunching guitar rock to tranquil resignation. It's a wild and sometimes uncomfortable listen, but proves that lyricism and raw noise aren't contradictory.
4/5
"I.E." covers many bases from jazz to rock to electro to ambient but always sounds distinctive and convincing. It is easily the best recording involving Aarset that I've heard to date.
Med sine 71 minutter kan «I.E.» oppleves som en ganske massiv dose lyd, og enkelte tilløp til surstoffmangel kan nok komme til å gjøre seg gjeldende for andre enn akklimatiserte Aarset-fans. Like fullt er de små meditasjonene også til stede, og presisjonen og smakfullheten i byggingen av de store, komplekse lydbildene imponerende. Om Aarsets melodilinjer i seg selv ikke flytter fjell, funker de fint som «soniske utviklingsprosjekter» og gjør følgelig sitt til at «I.E.» alt i alt kommer som original og overbevisende gjennomført rapport om hvor Eivind Aarset befinner seg musikalsk akkurat nå. Det synes rimelig å anta at den neppe vil gjøre ham mindre ettertraktet på den internasjonale turné- og festivalscenen i kommende måneder og år. Mer.
 EIVIND AARSET - DREAM LOGIC

På Dream Logic har Eivind Aarset samarbeidet tett med Jan Bang og Erik Honoré. Dream Logic er lag av Eivinds mer eller mindre konvensjonelle gitarbruk og Jan Bangs samples og effekter – til sammen et drømmeaktig landskap, et umulig sted, slik søvnen kan åpne for umulige steder og tilstander, ikke bryr seg nevneverdig om fysiske lover. Som en som trives godt i, om ikke med, kategorien nu jazz kjenner jeg meg umiddelbart igjen. Selv om det glir og vi svever for å så svømme, hvordan nesten uhørlig perkusjon og treig, seig bassgang liksom bobler opp mot en umulig overflate, blir det aldri vanskelig, ei heller søvndyssene. Lag med bearbeida gitarlyd gir oss et stryker- eller synth-liknende, langstrakt bakteppe med detaljer som trer fram i krystallklar, mer konvensjonell gitar. (Jazz i Norge)
Anmeldelse HER
Etter flere egne utgivelser på Bugge Wesseltofts Jazzland, kommer Aarset nå på ECM, der han allerede har en omfattende cv som medmusiker for bl a Nils Petter Molvær, Marilyn Mazur, Jon Hassel, Arve Henriksen og Arild Andersen. På «Dream Logic» har han samarbeidet tett med Jan Bang og Erik Honoré om produksjon og klanglig utforming av de 11 melodiene/klangskulpturene/lydlandskapene, og albumet er en av de få ECM-utgivelsene som ikke bærer ECM-sjef Manfred Eichers navn overhodet. Som gitarist med stor sans for og ditto kunnskap om elektronikkens lyd- og dermed uttrykksutvidende muligheter, er Eivind Aarset en banebryter. Også på «Dream Logic» spiller gitaren ofte rollen som manipulerbar lydkilde og redskap for lag-på-lag-legging mer enn som tradisjonell melodifortellerstemme.
Les hele DAGBLADETS anmeldelse HER

The renowned Norwegian guitarist – who has previously contributed to ECM recordings with Nils Petter Molvær, Marilyn Mazur, Arve Henriksen, Andy Sheppard, Arild Andersen and Jon Hassell – with a first 'leader' disc for the label, recorded in Kristiansand and Oslo. "Dream Logic" is aptly named, its slowly developing drifting pieces, built up from layers of guitars, have an almost hallucinatory quality, an otherworldly ambience. Jan Bang, who is co-composer of a number of the pieces, also contributes sounds and samples, and co-produced the disc.
Into the synchronicity of technique and vision he has sculpted since his early teens, Aarset has absorbed inspiration from a variety of musicians, including Bill Laswell, Marilyn Mazur, and, above all, Jon Hassell. That said collaborators are all masters at creating dream logics of their own is no coincidence, for he too is the student of another time-space continuum. With guitar as writing instrument and an array of electronics as his paper, he takes down field notes of a culture we've never known, a culture that slides down the ladders of our DNA and airbrushes mantras onto our microbes. Partner Jan Bang—who worked alongside Aarset most recently on Hassell's Last night the moon came dropping its clothes in the street—adds rivers and landmarks, making the overall effect that much more immediate. Given the above history, one would expect long dronescapes, à la Re: ECM, to prevail. What we get instead is a set of eleven glimpses averaging four minutes apiece. These are no scale models, but self-aware biomes along whose ghostly borders flourish colonies of samples and contact wire.
FULL REVIEW HERE
EIVIND AARSET - THE SONIC CODEX ORCHESTRA

Sonic Codex, Aarset's femte Jazzland utgivelse, er kanskje det sterkeste albumet han har produsert så langt. Sonic Codex tar konsepter fra hans tidligere album, nyetablerer, utdyper og forsterker dem til å lage et sant mesterverk som godt kan være et avgjørende øyeblikk i både Aarset karriere og Jazzlands historie. Albumets tittel er en perfekt oppsummering av sitt timeslange innhold: Det er en SONIC CODEX. Den fronter Aarset's engasjementsregler med lytteren, og svært bevisst siteres og omdefineres musikaliteten som utgjorde de foregående albumene Electronique Noire, Light Extracts og Connected - det er en innovativ tilstedeværelse som samtidig oppsummerer fortiden, og spår fremtiden.
While Aarset's almost pathological avoidance of conventional guitar tones—and familiar rhythmic and harmonic approaches—remains intact from earlier albums including Connected (Jazzland, 2004), Sonic Codex does have some of his most identifiable guitar playing on record. Aarset is usually such a vivid colorist that, without the benefit of seeing him, it's often difficult to discern exactly what sounds are coming from his complex array of effects, samplers and looping devices. AllAboutJazz full revivew here: http://bit.ly/K7hhwD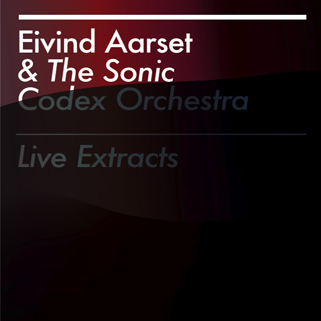 Taken from various venues, and with slight variations of personnel, Live Extracts retains the unity of feeling and purpose found on Aarset's studio work, yet is constructed from a completely different perspective. The dynamism of the live sets offers the listener a fresh perspective on familiar material, often sounding completely reimagined. However, the distinctive approach is clearly that of Eivind Aarset, albeit less distilled or refined: this is the raw ore of his imagination, often bold, energetic, and untamed, yet capable of moments of stillness, tenderness and cool composure. It is an expressionistic version of his sonic world, but never falls into self-indulgence - ego takes a distant backseat, instead allowing the interplay of the musicians to grow both inside and out the song structures that Aarset's fanbase know so well, creating something utterly new in the process. The opening and closing tracks, although growing to and from separate established pieces from the Aarset oeuvre, are superb examples of spontaneous music, filled with atmosphere and delicate brilliance. Echoes of Jimi Hendrix and Miles Davis also resound in Electromagnetic and Sign of Seven respectively, but are driven through a very Aarset filter. For fans, this will be an affirmation of their zeal for his music. And for those who have never experienced Eivind Aarset's live performances, Live Extracts will be a revelation, one that will make them pay very close attention to concert listings in future.
EIVIND AARSET  - CONNECTED
This is Eivind Aarset's third opus, neatly following on from his first "Electronique noire" output which first brought attention to Norway's well-kept secret jazz talent. Though not that secret after all, the New York Times defined his debut as "One of the best post-Miles electric jazz albums". After that came slow but sure worldwide touring, chill-out dj word of mouth (thanks to some wonderful Chilluminati remixes) and another critically acclaimed follow up "Light Extracts".
EIVIND AARSET - ÉLECTRONIQUE NOIRE - LIGHT EXTRACTS

Eivind Aarset - one of the voices from the Norwegian jazz underground, saw 'Electronique Noire', his first release as a leader, hailed as 'One of the best post Miles electric jazz albums' by none other than The New York Times as well as America's leading jazz magazine 'Jazz Times' and the UK's 'Jazzwise'. Now 'Light Extracts', his much-anticipated follow up album, is set to establish Eivind as one of the key voices in European Nu-Jazz.
EIVIND AARSET - ÉLECTRONIQUE NOIRE
In 1998, Aarset released "Electronique Noire", his debut as a bandleader, and among the first Jazzland releases. Critics cast about for description that fitted the album: "Post rock"; "Nu Jazz"; "Post Miles Ambient"; and "Drum 'n' Bass Fusion" are among the many efforts, yet none truly captures the unlikely match of diversity and coherence that the album displays. During this time, Aarset was working and touring with Nils Petter Molvaer, recording on the trumpeter's landmark album "Khmer" (and each Molvaer album since). As Molvaer broke through, gaining an international listenership, many fans found their way to "Electronique Noire" and the initial, mind-bending impact of the album opener, "Dark Moisture," is still a popular topic of discussion among Aarset fans.
More:
In a time when the interactive video game Guitar Hero is selling in the millions, Eivind Aarset is, in many ways, the Guitar Anti-Hero. Despite making music that could easily lend itself to the kind of guitar pyrotechnics that are so often the litmus test of a good player, Aarset's emphasis is on texture, on melody, on groove, and on a kind of collective improvisation that's been reshaping and redefining what jazz can be since he released his first album as a leader, Electronique Noire (Jazzland) in 1998. Live Extracts (Jazzland, 2010), featuring various incarnations of his expanded Sonic Codex Orchestra, is culled from a number of live dates in Europe, largely revisiting earlier material from albums including Connected (Jazzland, 2004) and Sonic Codex (Jazzland, 2007), but with paradoxically even greater energy and subtlety; music that moves from a whisper to a roar in a matter of seconds.