How to master "The Art Of The Trio" perfectly. Until now we've only known it from Brad Mehldau, Bill Evans and E.S.T. Now, with the Norwegian Helge Lien Trio, a new formation is on the way to adding new exciting soundscapes to the piano trio.
Helge Lien Trio har spilt sammen siden 1999, og har gitt ut åtte album. Om trioen er det sagt at de på en sjelden måte evner å trollbinde sitt publikum. De spenner over et bredt spekter av stemninger og uttrykk i løpet av en konsert, samtidig som de holder fast ved sin unike sound. Man får høre sterke komposisjoner, som både kan være lyriske, intenst groovy, humoristiske og kraftfulle, lange strekk med kompakte improviserte forløp, men også inspirerte enkeltprestasjoner - som seg hør og bør i et band som blant mange andre ting henter inspirasjon fra den klassiske jazztradisjonen. Helge Lien Trio fikk Spellemannprisen for albumet Hello Troll (2008), og var også nominert i 2002 med albumet Spiral Circle og for Natsukashii (2012). De har spilt konserter i Japan, Korea, Canada, Tyskland, Belgia, Russland, Luxembourg, Romania, Sverige og Danmark, samt gjestet de fleste norske jazzfestivaler, bl.a Moldejazz, Nattjazz, Maijazz og Kongsbergjazz. I 2008 fikk Helge Lien Kongsberg Jazzfestivals Store Musikerpris (DnB NOR-prisen) og i 2007 Hansaprisen for sitt arbeid med dette ensemblet. Våren 2014 kom trioens åttende album; Badgers and other beings, det første med Per Oddvar Johansen på trommer.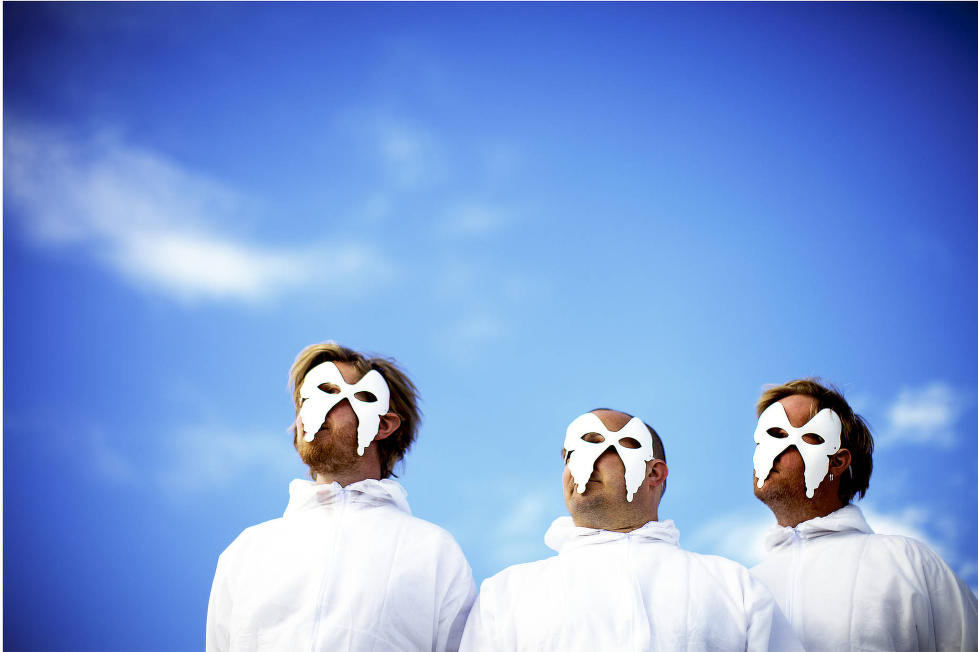 A little nation with a big jazz tradition is the land of fjords and trolls. Fascinating new artists and acts sporting a huge zest for playing and an irrepressible urge for experimentation keep pushing out of Norway to conquer the rest of the jazz world. The Helge Lien Trio, who have already won a large circle of fans in Scandinavia and Japan with their five albums and inspiring live concerts, are especially significant. They maintain the balance between jazz traditions and the avantgardist art of improvisation like hardly any other classic piano trio, par excellence.
Helge Lien, who besides his own trio project performs with other Norwegian acts like Silje Nergaard, has developed his very own unmistakeable style of trio playing with band colleagues Frode Berg (bass) and Knut Aalefjær (drums & percussion). With instinctive sureness, the musicians develop a "chamber music" jazz that stands out through its harmonically complex tone colors. Building on Bill Evans' lyrical power and the exhilaratingly melancholic playing of Esbjörn Svensson, Lien, in constant dialogue with Berg & Aalefjær, creates distinct moods on 'Hello Troll' – moods that he presents with ease.

Doubtlessly pianist Helge Lien, who is very skilled at playing to the gallery with his modal piano art, is one of the most exciting young talents in Scandinavia. After the honorable Dagbladet from Norway already described the forerunner CD 'To The Little Radio' as "the best Norwegian Piano Trio Album in a long time", we can be looking out for a similar reaction to their new longplayer. Playing their way into the hearts of a steadily growing circle of listeners with classic-impressionistic patterns and rhythmical-melodic jazz, this trio's resourcefulness seems to truly know no bounds.
Helge Lien: piano
Per Oddvar Johansen: drums
Frode Berg: double bass

ADAN BALDYCH - HELGE LIEN TRIO - BRIDGES

Adam Bałdych is probably the best living violin player in jazz today. Together with the Helge Lien Trio he combines the influences of jazz, Polish and Norwegian folk and popular modern music. An album full of melody and outstanding musicianship.

Bałdych builds bridges  The virtuosity of Polish violinist Adam Bałdych enables him to pass with astonishing ease through all kinds of borders: the boundaries of his instrument, the barriers between genres, the seams between composing and improvising. These dividing lines fall away as his playing coalesces with that of his fellow musicians. These attributes have led the UK magazine Jazzwise to call him "a refreshingly different European jazz star". As a player who is "a virtuoso and capable of delivering high emotion" (Fono Forum) with his "dervish-like intensity" (Jazz thing), he uses the tradition as the point of departure for new and exploratory journeys up and away beyond jazz. 

"Bridges" is now officially released, and we have played our first gigs! It was so much fun, the audience in Hamburg and Hannover were really great, and the music is already developing in an interesting way. Helge Lien.
HELGE LIEN TRIO - BADGERS and OTHER BEINGS
Holdbarhetens triumf.
Etter 14 år og sju album stiller Helge Lien Trio med ny trommeslager på det åttende. Det går helt fint. De sju Helge Lien Trio-albumene fra 2001s «What Are You Doing the Rest of Your Life» til 2011s «Natsukashii» står som en av bærebjelkene i 2000-tallets norske jazz.

NÅR den rutinerte, men langt fra forutsigbare trommeslageren Per Oddvar Johansen trer inn i trioens musikk, gjør han det på den eneste kloke måten: sin egen. Det har alltid vært mye «Jon Christensen» i Per Oddvar Johansens fargelegging og intuitivt-klingende markeringer, og skiftet medfører naturligvis at Helge Lien Trio klinger annerledes enn før. Men allerede åpningslåta på «Badgers...», den smått geniale «Mor», viser en trio på et nivå som gjør et spørsmål som «bedre eller dårligere enn før?» meningsløst, og inntrykket bare forsterker seg gjennom de øvrige Lien-originalene som utgjør albumet. I ALL sin enkle inderlighet, fikse inndeling og melodinære utforsking tar «Mor» øyeblikkelig bolig i hukommelsen, og truer en stund med å overskygge de øvrige ni melodiene, som med sine riffs og groover, svev og stemningsmangfold såvisst ikke er snaue, de heller. Men etter hvert som «morsbindingen» viker, trer et formidabelt helstøpt album fram for lytteren, og til sist står «Badgers and Other Beings» der som en kunstnerisk triumf for en trio som fortsatt låter som om den tenker med én hjerne, og som med rå kraft og poetisk dansende eleganse forsvarer plassen i pianotrioenes internasjonale toppdivisjon. DAGBLADET TERNINGKAST 5

På den åttande plata – om «grevlingar og andre skapninar» – spelar også landets beste jazz-trommeslagar, Per Odvar Johansen, med all ære til Knut Aalefjær som eminent utøvar og ein klippe i bandet på dei sju første. Med tredjemann, Frode Berg, som eminent bassist har Helge Lien og trioen heile tida dyrka trioformatet i sitt eige bilete, med musikk som også har ein eineståande publikumsappell. Som på den første konserten i februar i år med det nye bandet på Nasjonal Jazzscene, der trioen med eller utan pausar demonstrerte ein musikalsk samforstand som råka publikum på ein måte det er sjeldan å oppleve. DAGSAVISEN LES MER
Nok en gang gir Helge Lien Trio oss vakker, uttrykksfull, heftig, neddempa og hele tida svært så personlig og melodisk musikk med røtter i alt fra Bill Evans, Keith Jarrett og Brad Mehldau, men aller mest i seg sjøl. Lien, som har komponert all musikken, sier sjøl at han denne gangen har søkt bakover i sin egen arv og fortid. Mulig det, men musikken er fortsatt tidløs og har så absolutt noe i 2014 og i mange år framover å gjøre. Med denne musikken er det ofte slik at man må skue bakover for å se framover og det er akkurat det de tre har gjort her. Musikken er så inderlig, unik, gjennomsiktig og inviterende som vel mulig og Helge Lien Trio forteller oss nok en gang at det fortsatt er nye dører å åpne. Det er intet mindre enn veldig hyggelig å bli invitert inn i dette. MER
HELGE LIEN TRIO - NATSUKASHII
The Japanese term Natsukashii describes how intense memories can suddenly be triggered by something as trivial as an old shoe. Norwegian pianist Helge Lien has dedicated his latest trio-CD to these moments, when reality is replaced by reverie and a simple chord can reveal innermost secrets. Aptly Natsukashii was recorded in just three days. The sense of spontaneity and subcutaneous tension this has awarded the sessions is palpable on the album, which is pierced by dark metaphors as well as a slow-simmering eroticism and channels the entire breadth of the trio's influences - from classical to jazz and from folk to progressive rock. To Lien, music has always been about building narratives and the ten stories contained here are among the most alluring and atmospherically dense he's composed. These compositions never just feed from nostalgia, but always explore the magic of the current moment as well ­ and, in doing so, take their audience on a veritable trip. listen to the album
ALLABOUTJAZZ: So, what do you do when you've won, amongst other accolades, the 2008 DnBNor Musicians Award and a Norwegian Grammy Award for Best Jazz Album of 2009? Well, if you're Helge Lien and the album is Hello Troll (Ozella, 2008), you just keep on keepin' on—in this fine pianist's case, continuing to hone the trio that's been his primary focus since What Are You Doing the Rest of Your Life (Curling Legs, 2001). With the unfortunate dissolution of e.s.t., following the pianist Esbjörn Svensson's tragic death in 2008, there's a bit of a gaping hole in the realm of young European piano trios achieving greater international acclaim. Not that there aren't other fine trios out there, but few are better than Lien at balancing impressive virtuosity with inherent accessibility, and introspective lyricism with buoyant expressionism: a clear recipe for potential crossover success. Expanding on the strength of Lien's previous six-strong discography with his trio, if ever there were a breakthrough record for the pianist, Natsukashii is it.

All.About.Jazz review
MORE album reviews:

brushvox.com


Anmeldelse Natsukashii i Dagbladet
HELGE LIEN TRIO - HELLO TROLL
Lien's trio, along with bassist Frode Berg and drummer Knut Aaleflæt, has been together long enough to possess the same kind of telepathy that's made e.s.t.'s final disc, Leucocyte (ACT, 2008) such a career-defining record. Collective improvisation is a significant component; still, like its Swedish counterpart, the trio is predisposed to form, melody and groove. Unlike e.s.t., however, Hello Troll is an all-acoustic affair, recorded by legendary ECM engineer Jan Erik Kongshaug at the legendary Rainbow Studio in Oslo with his characteristic attention to detail, clarity and transparency. Shades of Dave Holland pervade the opening "Gamut Warning," where a potent bass vamp drives nearly five minutes of extended soloing by Lien, but a challenging 7-8-7-9 metric shift keeps everyone on their toes. Lien's slow-build, where space is a strong component in keeping the tension high even as the dynamics ebb and flow, is relentless despite its ultimate fade to black. "Axis of Free Will" possesses some of Brad Mehldau's cerebralism and oblique lyricism but, like that pianist's trio—especially since drummer Jeff Ballard came aboard—there's an unmistakable energy and visceral interaction between the three members that still makes it an exciting ride.
FULL REVIEW HERE
The recording Hello Troll is comprised of nine Helge Lien original compositions. The songs are lyrical, with bold beautiful melodies that stir the imagination and paint portraits of romanticism in your minds eye. The songs are played to perfection with the strength of a trio now on to their sixth album. The trio is Helge Lien playing piano, Frode Berg on bass and drummer Knut Aalefjaer. The influences that come through on the compositions are varied from Shorter to Holland and Evans to Davis, the modernists are well represented and in good company.

The introduction to the trio is presented with finesse and glory on "Gamut Warning". There is no let up from song to song. The power of the group and the energy of the songs create a flow that is at once both addictive and appealing to all of the senses. The song "Axis Of Free Will" takes the listener on a journey of imagination and adventure that is free form modal music at its most sublime. The magic continues through all nine compositions of Hello Troll, culminating in a song that opens with simple piano notes struck in a slow and methodical manner. The group joins in after a few bars, lending substance to a haunting melody. "In The Wind Somewhere" is a ballad featuring a swaying melody that rolls as waves of wind currents and swaggers with dignity while growing and fading in dynamic splendor. MORE
Biografier/Bios in norwegian and english:


Helge Lien er utdannet fra Norges Musikkhøgskole og Rytmisk Musikkonservatorium i København (1994-2001). Han var i studietiden medlem av Sandvika Storband, og hans første CD-innspillinger er som medlem av dette bandet på "Greenhouse" (1997) og "Lining Up" (1999).

Liens debut-CD under eget navn var soloplaten "Talking to a tree" (2000). Hans egne prosjekter har ofte vært i små formater, og han har fra 2001 ledet en fast akustisk pianotrio sammen med Frode Berg på bass og Knut Aalefjær på trommer. Trioen har spilt konserter i mange europeiske land og over hele Skandinavia, og har også hatt suksess i Japan, der tre av gruppens CD-er er utgitt, "Spiral Circle" (2002), "Asymmetrics" (2003) og "To the little radio" (2006).

Sammen med saksofonisten Rolf-Erik Nystrøm (som er født på samme dato som Lien) har Lien dannet duoen Hero, som arbeider innenfor et fritt improviserende format. Duoen ble først presentert for et større publikum ved Ungjazz-festivalen i Ålesund 2000, men er kanskje spesielt kjent for musikken til NRK-dokumentaren om Alf Prøysen fra 2004, som senere ble utgitt på CD-en "Prøysen" (2005). De ga også ut cd'en "The discovery and exploration of Planet HERO" (2006), et fritt improvisert live-opptak fra Levinsalen ved Norges Musikkhøgskole.

Et annet av Liens prosjekter er trioen Tri O'Trang, bestående av Lien på piano, Lars Andreas Haug på tuba, trompet og ventilbasun, og Torben Snekkestad på saksofoner og bassklarinett. Gruppen, som kaller seg selv "en moderne kammertrio", finnes innspilt på CD-ene "Liker" (2000), "Fordivi" (2002) og "Må" (2006). Trioen har også samarbeidet med gitaristen Jon Eberson og trommeslageren Per Oddvar Johansen på "Plays Jon Eberson" (2005).

Helge Lien arbeider fast med sangerne Silje Nergaard og Jørn Simen Øverli. Han har også deltatt på en rekke innspillinger med ulike sammensatte prosjekter, og også med profilerte artister som Lars Martin Myhre og Kåre Conradi. I perioden 2003-2005 jobbet han som hovedinstrumentlærer i jazz-piano ved Norges Musikkhøgskole i Oslo.

Under Nattjazzen i Bergen 2007 ble han tildelt Hansaprisen, som deles ut årlig til en musiker som "har internasjonale kvaliteter og som har potensiale til suksess i utlandet." I 2008 ble han tildelt "DnB NOR-prisen" - Kongsberg Jazzfestivals Store Musikerpris.

Helge Lien graduated from the Academy of Music and Rhythmic Music Conservatory in Copenhagen (1994-2001). He was a student member of Sandvika Big Band, and his first recordings is as member of this band on "Green House" (1997) and "Lining Up" (1999).

Liens debut CD under his own name was the solo album "Talking to a tree" (2000). His own projects have often been in small formats, and he has since 2001 led his own real acoustic piano trio with Frode Berg on bass and Knut Aalefjær on drums. The trio has performed in many European countries and throughout Scandinavia, and has also had success in Japan, where three of the group's CDs are released, "Spiral Circle" (2002), "asymmetric" (2003) and "To the little radio "(2006). In the period 2003-2005 he worked as principal teacher of jazz piano at the Norwegian Academy of Music in Oslo.

At the NattJazz-festival in Bergen 2007 he was awarded the Berlin Prize, awarded annually to a musician who "has international quality and has the potential to succeed abroad." In 2008 Helge was awarded the 'DnB NOR Award' - Kongsberg Jazz Festival Store Musician Award. In 2009 the trio won The Norwegian Spellemannsprisen for "Hello Troll. 
Frode Berg, jazz-bassist som har spilt med "alle" i Norge, også kjent for samarbeide med internasjonale storheter som sir Paul McCartney, Bobby Shew, Andy Sheppard, Frank Gambale og Dee Dee Bridgewater. Berg har siden 1992 satt sitt preg på musikklivet i hovedstaden, og pådratt seg et "basshelt"-stempel gjennom virtuose turneer med diverse jazzensembler, f.eks Oslo Groove Company, Knut Værnes trio (featuring Danny Gottlieb) og Helge Lien trio. Frode har med sin egen Frode Berg Kvartett gitt ut platen "Dig it (2004) på det velrenommerte tyske plateselskapet Nagel Heyer Records.

Frode Berg, jazz bassist who has played with 'everyone' in Norway, also known to cooperate with international greats such as Sir Paul McCartney, Bobby Shew, Andy Sheppard, Frank Gambale and Dee Dee Bridgewater. Berg has since 1992 left his mark on the music scene in Oslo, and incurred a 'bass hero' stamp through his virtuoso playing with various jazz ensembles, such as Oslo Groove Company, Knut Værnes Trio (featuring Danny Gottlieb) and Helge Lien trio. Frode also has his own Frode Berg Quartet. Their album "Dig It (2004) was released on the prestigious German label Nagel Heyerdahl Records.
Per Oddvar Johansen (født 1. mars 1968 i Oslo) er en norsk jazzmusiker (trommer), kjent fra bl.a. Trondheim Kunstorkester og samarbeid med Trygve Seim, der også utgivelsene med The Source har vært viktige bidrag til nyere norsk jazz. Disse, samt Bodega Band (1990–92), Trio Midt-Norge, Piggy Bop, Vigleik Storaas Trio og Airamero var sentrale miljø for Johansen i studietiden ved Jazzlinja (NTNU) (1989–92). Bidrag til utgivelse med Tre små kinesere (1992) forekom også. Etter flytting til Bærum (1992) har han fortsatt flere av disse prosjektene, samt vært medvirkende og sentral i utgivelser med Torbjørn Sunde, Jan Erik Kongshaug, kvartetten TINGeLING, tubaist Lars Andreas Haug, Solveig Slettahjells «Slow Motion Orchestra», Kjersti Stubø, Petter Wettre, Jacob Young, 1300 Oslo, Zanussi Five, med Kjetil Møster/Per Zanussi i trio, vokalist Eldbjørg Raknes og gitarist Hans Mathisen. På Moldejazz 2006 spilte han med Joshua Redman, Arild Andersen og Bugge Wesseltoft. Sammen med Petter Wettre fikk Johansen Spellemannprisen 2000 i klassen jazz for albumet The Only Way to Travel. Han har dessuten mottatt Spellemannprisen to ganger som medlem av Vigleik Storaas Trio. I trioen Close Erase med Ingebrigt Håker Flaten og Christian Wallumrød har han gitt ut fire plater (1995–). Johansen har også vært tilknyttet som trommelærer ved Universitetet i Oslo og Norges Musikkhøgskole.
Per Oddvar Johansen (born 1 March 1968 in Oslo, Norway) is a Norwegian Jazz musician (drummer), most recognized for his work with Trygve Seim, Christian Wallumrød, The Source, Solveig Slettahjell and Vigleik Storaas, but has also been awarded the Spellemannprisen five times. Johansen played in several rock bands in Oslo, before he attended the Jazz Program at Trondheim Music Conservatory (1989–92). There he started cooperations with among others the Bodega Band (1990–92, with the record En flik av ... in 1992), Airamero from 1990, Trio Midt-Norge, Piggy Bop from 1991, Vigleik Storaas Trio and the Trondheim Kunstorkester. He also started a long-lasting cooperation with Trygve Seim, among others in The Source, and has given profound marks on the Norwegian Jazz scene. He put his drums in for the band Tre Små Kinesere (1992) too. When returning to Bærum (1992) he still continued many of these projects, in addition to performing with artists like Torbjørn Sunde, Jan Erik Kongshaug, the quartet TINGeLING, tubaist Lars Andreas Haug, Solveig Slettahjell's «Slow Motion Orchestra», Kjersti Stubø, Petter Wettre, Jacob Young, 1300 Oslo, Zanussi Five, with Kjetil Møster/Per Zanussi Trio, the singer Eldbjørg Raknes and the guitarist Hans Mathisen. In 1994 he toured with the trumpeter Kenny Wheeler and performed with the rock band Motorpsycho at Kongsberg Jazz Festival in 1995. He played with Joshua Redman, Arild Andersen and Bugge Wesseltoft at Moldejazz 2006. Johansen together with Petter Wettre was rewarded Spellemannprisen 2000 in the class jazz for the album The Only Way to Travel, a prize he also received twice as a member of Vigleik Storaas Trio. He has released four records with Ingebrigt Håker Flaten and Christian Wallumrød in the trio Close Erase (from 1995). He has also given lectures in drumming at University of Oslo and Norges Musikkhøgskole